Advertisement

Straight From the Mouth
The Morning Mouth's March Interview with Jack Diamond
(Reprinted by permission; Copyright © 2009 Talentmasters Inc.)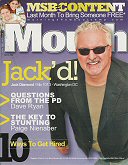 Background check: Born and raised in Washington, DC, first fulltime job gig at WINX, Rockville, MD, at the ripe age of 16. The summer I got my driver's license, I drove to Annapolis and got his first parttime jobs at WNAV and WYRE. From there it was WEEL in Fairfax for a couple years. Then, at the age of 19, like "WKRP in Cincinnati" worked town-to-town up and down the dial. Travel included Denver, Providence, Jacksonville, Baltimore, Boston, Seattle, San Antonio, San Francisco, Atlanta, San Diego, New York and Chicago. Also worked TV, both part and fulltime, including co-hosting "Broadcast House "Live" in D.C. on Channel 9 and am currently on "Idol Chatter" as part of the American Idol phenomenon on FOX 5. Came to Mix/Washington nearly 18 years ago. He's a father of 5 and married to Lisa Anne, a talented singer-songwriter. He and his one sister, Pam, who lives in Olney, are both adopted. Their mom, who just moved back home to Washington years ago.
MSBC celebrates it's 20th Anniversary this year. With that in mind, I thought of morning hosts who not only have been around for the last 20 years, but those who've also stayed on top. You obviously came to mind. How have you managed to do this?
Not only have I been "around" for 20 years, I've been at WRQX for 18 years. Fully, half my career. How have I managed that? I pay attention to what people are paying attention to. I see my job as the "Brand Ambassador" for "The Jack Diamond Morning Show," and the station that carries our show. We are the emotional content of the station for those five hours, and I try and "say aloud" what people are thinking. Off the air -- I listen more than I speak.
Other than a 7 digit salary, what keeps you motivated?
Keeping my 7 digit salary! And a burning desire to be relevant everyday. I read and watch everything, and love to share it and my life experiences. The Internet and the opportunity to add pictures, video and streaming content has
Advertisement


about what were doing the next day to fall asleep right away most nights. When the alarm goes off at 3:30am, I can't wait to get started. Okay, a few days a month I lament the days when I did afternoons in San Francisco.
Do you remember what your first job paid?
I was a short order cook, at the age of 14, at the Lincoln Grille in Wheaton, Maryland. My first paid radio gig was when I was 16 was at WYRE and WNAV in Annapolis, Maryland. I made $3.50 an hour cooking and $2.25 an hour in radio.
You've had a lot of politicians on your show? Who are your favorites?
John McCain and Bill Clinton are always great guests. Al Gore is a good friend and a wonderful and colorful personality. Marion Berry was honest and very funny. Hell, he told us he went to school to be a pharmacist. Now that's funny!
Have one of them ever gotten ticked for something you said?
No, we have never ambushed anyone, and have always found a way to ask the "top of mind" question without pissing them off. We had Hillary Clinton on several times, and one of those times was right after Monica. We asked about it as a "person" would ask, not a journalist, and we got an honest answer from a person who was living through it.
What's the trick to a great interview?
Knowing a lot about your guest, and asking a first question that leads to a much more interesting second question. Also, follow the lead of your guest. If they are naturally going in one direction, go along and accelerate the emotion of the topic! Why try and change the course of a raging river. Go with them for the ride. Listen to your guests tone and start a conversation -- not an interview.
Ever had a request from anyone at the White House?
Yes, many times. Not just for a song, but the occasional favor, including
Advertisement

up in government play "games" and add to listener discussions on the air.
Do political press agents work radio the same as other publicists?
In every possible way. It's all about spin and relationships. There is more talent in DC than Hollywood, and they are better actors by far.
And the next President of the U.S. will be?
Barack Obama for many good reasons. He certainly has my vote and support. It is so time for a change, but oh the comedy this administration has provided. I will miss "Great Moments in Presidential Speeches."
Let's talk about the show? Cast members?
Jimmy Alexander, Erica Hilary, Bilingual Aly, Tommy McFly. Each brings a very special personality and talent to the show. They are all co-hosts and I am lucky to have their friendship, loyalty and the opportunity to work with them everyday.
Proudest on-air moment ever?
Helping a father grant a wish for his terminally ill son, who Duke Medical Center had sent home to live out his last days peacefully. We got a father-son project rolling, rebuilding a 68 Camaro. That so lifted everyone's spirits, and energized this young man, that he lived not only long enough to see the car restoration completed (with the help of a lot of kind listeners), he got married and fathered a child before he finally passed. An amazing and impossible to explain phenomenon. Also becoming close friends with the amazing young poet Mattie Stepanek. He passed at the age of 13, but was on the show on a regular basis, and when we found out he didn't have a web site to share his poetry, we asked a listener to help. That web site is not only still on the Internet, it is thriving: www.mattieonline.com
All-time favorite bit, stunt, event you've ever done on the air? "live" in studio performances, interviews and video packages, that are one of iTunes most downloaded video podcasts. Just search Jack Diamond on iTunes. They're also on www.jackdiamond.com.
Who do you listen to when you're not on the air?
I am one of those listeners we hate - I punch around and listen to a lot of news and lifestyle stations. "Blue Collar Comedy" on Sirius when I'm on the road.
I know you are in to the whole podcast streaming thing? In fact, don't you lead the pack in the area?
We had one of the first streaming shows/stations in the world many years ago when my wife and I ran the station's web site! Hard to believe, but in the beginning ABC didn't see the benefit! So we secured the call letters, domain and server. Designed the page. Wrote and uploaded all content, and started streaming. We maintained it for years. Today, we have nearly 100 video podcasts on iTunes and hundreds of audio podcasts. One of the most downloaded on iTunes.
Name someone who taught you more about doing a good morning show than anyone?
Wow, I learned it the hard way: trial & error. But a listener played a pivotal role in me becoming myself on the air. I worked in Seattle (a beautiful) city for a short time. I was doing a solo morning show trying to be a nice guy and entertain but not offend. I was miserable. We had had a week of rain. I mean 7 days, 24 hours a day. Finally the forecast called for a bright sunny day. I was thrilled to go on the air and say "Stop work on the Ark - the rain will end tomorrow and we'll see a bright blue sky, plenty of sun and 72 degrees. It will be a perfect day in the Great Pacific North West!"
The phone rings; me in my cheery morning radio voice says: "Good Morning!" The voice on the other end replies: "All of you radio idiots think we live for sunny days! Some of us have light sensitivity and moved to Seattle because of the cloudy, rainy days. Go f--- yourself you prick!" "Hello, hello?"
That day I decided to just be me, and say what I felt, thought and wanted to say. My success and income skyrocketed. She had done me the second biggest favor of my career - wake up, be yourself and have something to say. Even if I don't like it or you!! (the biggest favor being Pierre Eaton giving a 16 year old his first full time job on WINX, here in DC)
How many promotional albums and CD's do you have in your basement?
I paid for them all, but quite literally every single charted song in music. Contemporary, Dance, Country, Alternative, Gold, Classic Rock, Standards. You name it - I have it. Period. (They are a bitch to drag around the country. That's why I've been here 18 years!)
Dennis Weaver says 50 is the new 40, 60 is the new 50. Is that true for radio?
No one wants to "think" they're getting older. Even if they are. I think Dennis' point is "who cares how old you are? If you want to do it, wear it, eat it, go for it!" I have never had a listener come up to me and say: "Salt n Pepper hair, I don't think I'll listen to you guys anymore." I don't think age is their first thought - relevancy IS! If you have something to say and believe what you are saying, someone will not only listen - someone will want you on their station. Reaching people is still the key. "Beautiful Music" stations went away because they had huge "numbers" but no one was actually "listening". It was background. Regardless of your age, be foreground!
I talk to a lot of jocks in their 40's & 50's who are very conscience of their looks, staying tuned to their listener's world, etc. That's easier said that done. Do you still go to movies you hate or watch TV shows you don't care about? Is it safe to just let the younger members of your show do that for you?
I watch what I want and like on TV, and can talk about with passion. Everyone on the show, regardless of age, watches what they want. We don't assign viewing, but I like everyone to be aware of what is happening, and what may matter to a listener. If we missed it -- we ask listeners to call and tell us about it. It is a very wise thing to ask for help and outside opinions from listeners! It also gives you the chance to be the listener.
Have you ever slapped a PD?
LOL -- I have wanted to! Many times, and sometimes that PD is me! I think all personalities, especially AM Talent have to be the PD of their show. It doesn't mean anarchy should reign, but who knows better what may work next than the person doing it.
Do you call Judy Ellis (head of Citadel/ABC) by her first name?
Yes, and Mitch Dolan is Mitch, Farid Suleman is Farid. These are wonderful and talented people who love the business and although they're mainly involved on the corporate end of the business, they love great radio and radio talent. No pretenses here.
If you hadn't done radio, where do you suppose you'd be today?
A psychologist or veterinarian. I love dogs. Have 5 of them. I love people succeed or fail.
At what age do you lose radio groupies?
When it happens - I'll let you know, Don. People are always attracted to those in the spotlight. Even the small one cast by a local radio show. People are also very curious. We had the first in-studio audience of any radio show that I know of, on a weekly basis (we still do it every Friday) and it's never hard to get a dozen or 15 people who want to get up at 3:30am just to come in and hang out with you at work.
Advertisement